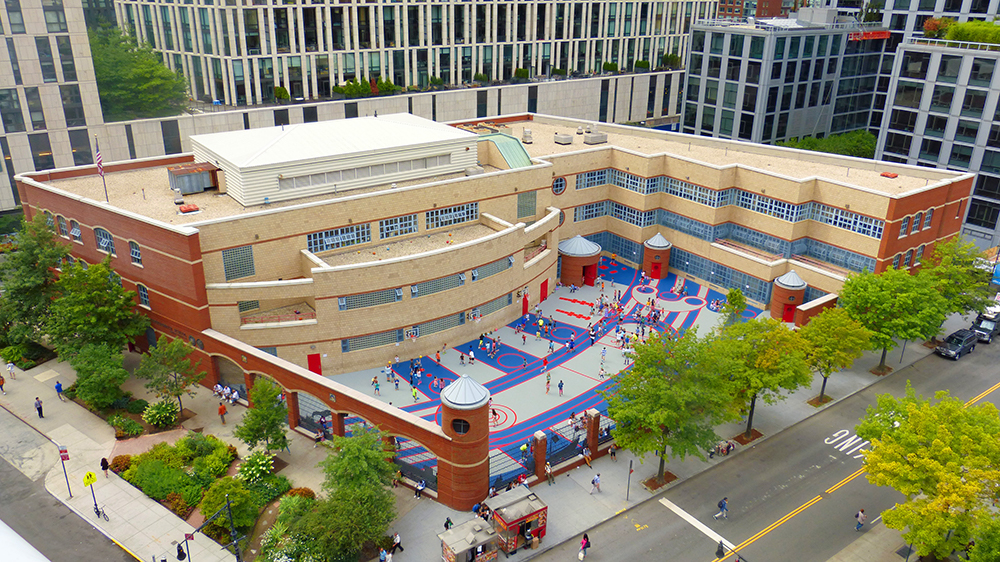 PS 234 INDEPENDENCE SCHOOL
LOCATION: Manhattan, NY
PROJECT SERVICES:
- Site Analysis
- Conceptual & Schematic Design
- Construction Documentation
- Design Layout
- Construction
YEAR: 2016
CLIENT: PS 234 Independence School
In the fall of 2014, KaN Landscape designed a new schoolyard for PS 234, located in the most sought after neighborhood for families in Manhattan,TriBeCa.
The designers worked in close collaboration with the school community to ensure that the yard design reflected their philosophy. The design evolved around the careful observation of the children's use of the space, as KaN spent many recesses carefully recording the play habits of the children and interviewing the children for their input and visions.
The designer's intention was to integrate and interpret the given program, (basketball, track, baseball, and games such as four squares, hopscotch, scully etc.), into a dynamic and playful layout while revealing the strong architectural identity of the building.
The details of brick arches, curved corners, industrial windows, and cylindrical turret designed by Dattner Architects as well as the decorative fence displaying silhouettes of ships by Donna Dennis were strong features the designers were resolute in respecting and even in emulating.
The chosen nonfigurative option captures and thoughtfully inserts some of the building features, such as the porthole windows, which land in the yard to create the base for a merry-go-round and other spontaneous team play.