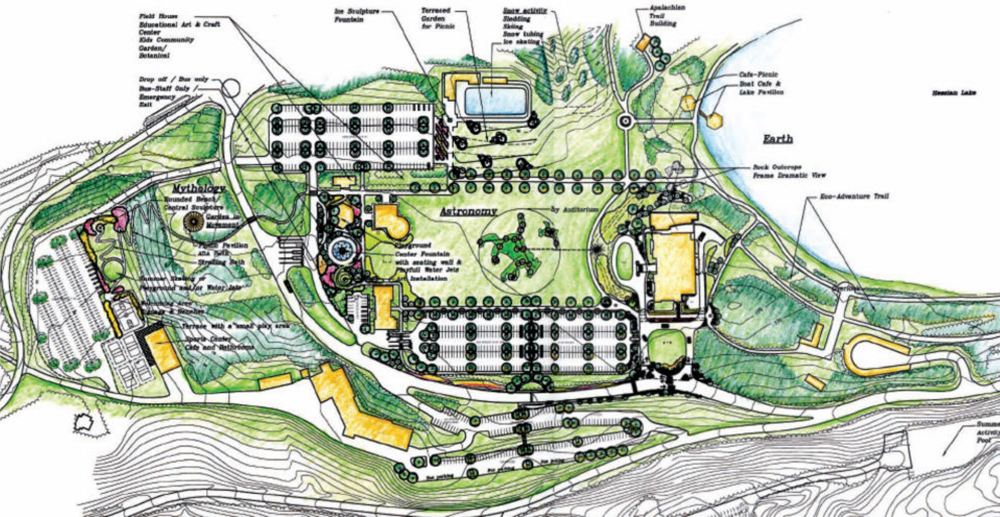 BEAR MOUNTAIN STATE PARK AND BEAR MOUNTAIN INN
LOCATION: Bear Mountain, NY
PROJECT SERVICES:
- Site Analysis
- Conceptual & Schematic Design
YEAR: 2008
CLIENT: Project undertaken while at Hudson & Pacific Designs Landscape Architecture
Project undertaken while at Hudson & Pacific Designs Landscape Architecture.
The restoration and opening of the Bear Mountain Inn, a landmarked building, necessitated a re-design of the site access and amenities.
Goals for this master plan included respecting the Historic Legacy and enhancing natural assets while facilitating vehicular and pedestrian circulation. In order to provide visitors with an entertaining and informative experience, the designers drew on the Bear as symbol, interpreted through the lenses of mythology, science, and nature.
MYTHOLOGY - The Goddess Bear, the Bear creator of the world and of life. The playground, puppet theater, and roller rink are dedicated to the Goddess Bear.
ASTRONOMY - The design of the great square is derived from the sweep of Ursa Major, the constellation. The stories related to seasonal changes and bears as hunters inform a series of plantings and narrative landscapes.
EARTH - The legendary and proven strength of the bear, and the bear's connection to earth and the woods, informed the design of an enclosed bear garden with a den to be built by children.